646 ATHLETE OF THE MONTH
January 2017
ELI ENGER
Eli has been a member of CrossFit 646 since August of 2016.  Even though Eli hasn't been a member of 646 for very long, he has quickly made a positive impact on our community.  Eli projects the perfect personality of a CrossFit 646 member by being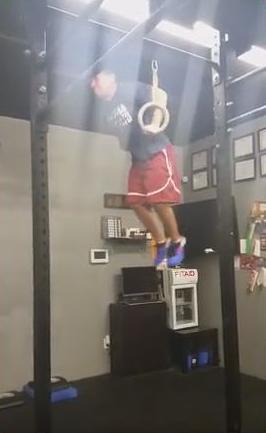 incredibly positive and encouraging to every person in class, while still putting in the hard work!  Eli was new to CrossFit in August, but not new to exercise.  What surprised the 646 coaches most, was Eli's willingness to learn and master new skills instead of muscling weights around or having a seizure on the pull up bar in order to get the reps done!
Eli spent many nights staying late after the 6:30 pm classes, honing his new craft and it has paid off.  For example, Eli was new to double unders when he stepped into our gym, and now he can do 300 Double Unders in 2 minutes and 37 seconds.*  It's a record in our gym that might never be broken #challengedropped.  Not only has Eli improved his skills, but he's also on the record board for the 300 Calorie Assault Bike workout!  I'd say his Cardio-respiratory Endurance and mental fortitude have been amped up for sure!  And let's not forget STRENGTH!*  Eli was doing some deadlifts the other day and afterwards he came up to me and said, "That's the first time I've used 300 pounds in anything!"*
Eli is a regular at the BADASS CLASS, Sunday Funday, and has recently earned a spot on the 646 Competitor Team.  Eli has also attended many of the CrossFit 646 social events during his time as a member. This truly shows that he is committed to our community and to his healthy lifestyle.  Eli, thanks for being a rock star at the gym and in life, and congratulations on earning the 646 ATHLETE of the MONTH AWARD!
Earned not given!
*results may vary