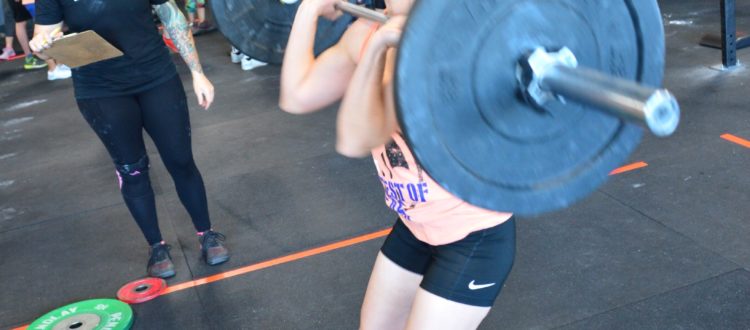 CONGRATULATIONS to COURTNEY HEATH for earning the ATHLETE OF THE MONTH AWARD for April 2018!
Here is what Courtney had to say:
1. How long have you been a member of CrossFit 646? Short answer, about 18 months. Long answer: I initially joined in January of 2016 when I moved to Tucson from New Hampshire. However, once my husband and I bought our house on the east side of town, I transitioned to a different gym. In November of 2016 I came back to 646 after some 1:1's with Mel. I missed the coaching and the community. The 30 minute drive is totally worth it. 646 is a special place.
2. What motivated you to start CrossFit? I started Crossfit in 2014 looking to improve my fitness and to do something different. My routine was primarily in a glob gym and I wasn't seeing results from the "dreadmill" and strength training I was doing. I knew a bit about Crossfit from a good friend who had been doing CrossFit for about a year and loved the challenge and the community at her box in Massachusetts.
3. What motivates you to continue pushing yourself? I'm a total Type A personality. I love a challenge. While the PR's aren't as often as when I started CrossFit, that feeling of a PR or achieving a new movement is such a great feeling.
4. Have you met any large goals since you've been a member of CrossFit 646? When I came back last November I wanted to improve my overall Crossfit skills to be a more well rounded person. Over the past year I've gotten toes to bar, chest to bar pull-ups, am happy with my volume of strict pull-ups and push-up and I can now squat snatch and OHS comfortably. It's all these small victories that add up to me becoming a more well rounded person in the gym.
5. What obstacles have you overcome to meet your goals? My biggest obstacle was probably myself. I have worked really hard to address my overhead mobility issues. The fact I can now squat snatch and OHS is pretty exciting for me. This is due to two things. The first is I now take the time to mobilize and stretch after class and at night. Secondly, I finally took the words on the wall at the gym to heart "Leave your ego at the door." Since I couldn't squat snatch or OHS a lot of weight, I was embarrassed to try and practice and work on the movement. Over the last couple months I've realized we all start somewhere and I'm dedicated to taking the time to add these movements to things I can do. I would say to anyone feeling that way…just do you. We are all here to learn and grow, and people want to see you do well and achieve your goals.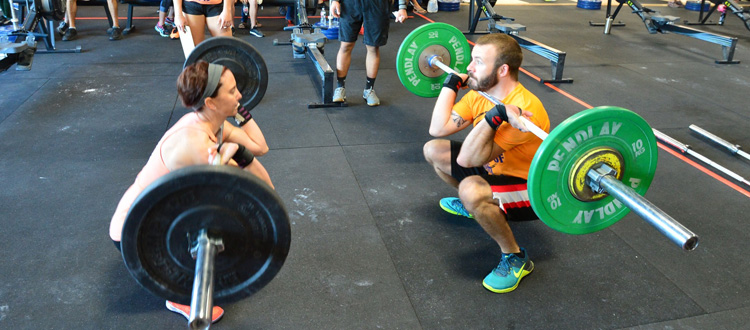 6. It takes a village to accomplish major goals. Is there anyone who helped you or inspired you to meet your goals that you'd like to thank? Wow…that's tough. The 5am crew motivates me everyday to push hard or try something beyond my comfort zone. Early morning lifting buddies have helped me to "leave my ego" and focus on learning the movements I want to execute…the plates on the bar don't matter. No matter what class I go to it's always a great time and a great environment. I also thank all the coaches for making 5am possible and for all you do to make all of us better athletes.
7. Do you have any goals that you're focused on right now? Getting proficient and comfortable with my snatches. Becoming a "butterfly" i.e. figuring out butterfly pull-ups…and maybe 2018 will be my year to really get upside-down. I'm starting to finally get comfortable. Candidly….right now I'm just really enjoying being at the gym and every day that I come in I know I gave it my best.
8. If you had to give one piece of advice to someone just starting out at CrossFit 646 what would it be? Take it one day at a time. Everyone in class with you also had a first day, a first week, a first attempt at a movement and thought "you want me to do what." Focus on the movement. Focus on the basics. It all comes in time.
9. What do you love about CrossFit? All of it. It's different everyday. You need to be a generalist….not a specialist to play the long game here. It's just so fun.