Drew Altizer (Now Playing Lacrosse at Amherst)
During my three years at St. Stephen's & St. Agnes School (SSSAS) in Virginia, I was extremely fortunate to train under the tutelage of Coach York. He introduced me to the sport of weightlifting and helped me develop into the college-level athlete that I am today.
I began working out at SSSAS during the summer before entering the 10th grade. I had played sports for a number of years, but I was completely new to lifting. He introduced me to olympic style movements, stressing technique and safety, before allowing me to increase to significant weights. Even though at the time, I was only using the lifts to gain a competitive advantage on the lacrosse field, I soon developed a love for the sport of weightlifting thanks in large part to Coach York's contagious enthusiasm about it. When he felt I was ready, he encouraged me to begin competing. Even though the weightlifting competitions were outside of Coach York's school responsibilities, he continued to support me at the events, asking for nothing in return. His wife, Coach Melissa York, graciously offered her time and effort to help me as well, even while she was competing herself. (Side note: Melissa clean and jerked more than I did at that competition…and I went 6 for 6).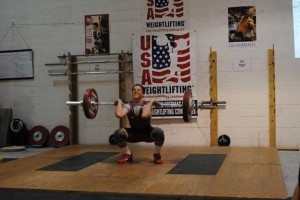 Good coaches should be able to teach skills affectively so that their athletes have success with those skills. Great coaches can accomplish this first requirement, while building character in their athletes and establishing strong relationships with them. I certainly learned a lot about weightlifting from Coach York. More importantly, through countless hours spent with him in the weight room, I now have a role model, a mentor, and a life-long friend.