JOE "PANCHO" RODRIGUEZ
We are excited to announce that Pancho Rodriguez is the Athlete of the Month for January 2018 at CrossFit 646!  Pancho is a friendly, humble, committed and driven person.  I'll never forget the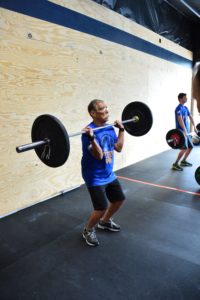 first day Pancho walked into CrossFit 646 North.  He hopped off his Indian Motor Cycle with a leather jacket and a handle bar mustache.  Come to find out he was 74 years old at the time!  He asked to watch class, having heard of CrossFit, but never done it before.  After class, he said he'd be in at 5am the next morning to try it out.  And sure enough, when I pulled up to the gym at 4:40am, Pancho was in the parking lot stretching (as he has been every day since), having road is bicycle to the gym for a warm up.  After his first class was over, he signed up and then told me he was going to ride his bike to Picacho Peak before heading home.  As I later learned, Pancho has done Iron Man's and was an elite cyclist for many years, as well as a veteran of the Marine Corps.  What an impressive and inspiring individual.  We are proud to say that Pancho trains at CrossFit 646!
How long have you been a member of CrossFit 646?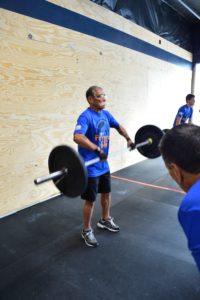 One year and one week
What motivates you to continue pushing yourself?
Just to stay fit…. in general.
Have you met any large goals since you've been a member of CrossFit 646?
I've lost weight.  Put on a little muscle mass and am extending my ability to do pullups/pushups/situps.  Squats are the best.
What obstacles have you overcome to meet your goals?
AGE!  ( I try not to act my age)
Do you have any goals that you're focused on right now?
Double Unders/HandStand Push Ups
If you had to give one piece ofadvice to someone just starting out at CrossFit 646 what would it be?
As CrossFit 646's motto goes……..bring your heart and leave your ego.
What do you love about CrossFit?
EVERYTHING!  I haven't done the same workout twice. Every day is a challenge welcomed. I've done many multi-sport competitions in the last 45+ years and CrossFit has introduced me to many new facets of workouts and challenges. I enjoy the intensity of the workouts.  The level of expertise and professionalism is amazing.  The guidance offered is excellent.  The members are outstanding and bring so much to each days workouts.  The enthusiasm and heart shown makes each day special. -Pancho